Sea Kayak Baja Mexico 2019 - Loreto National Park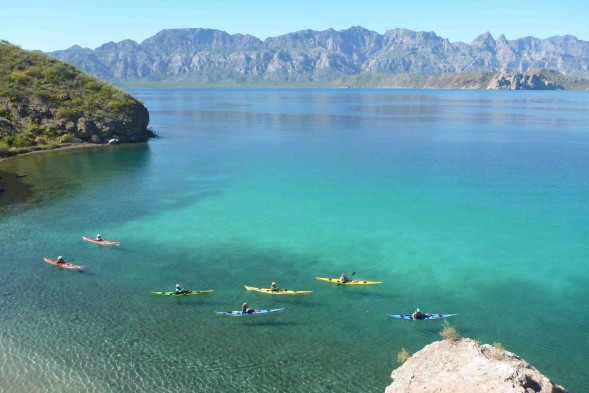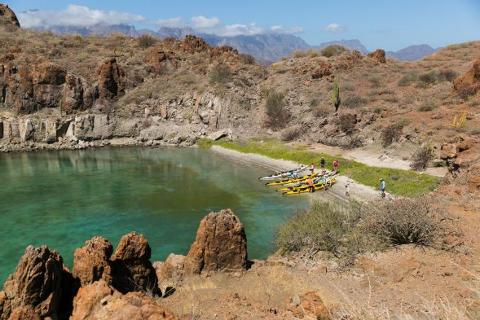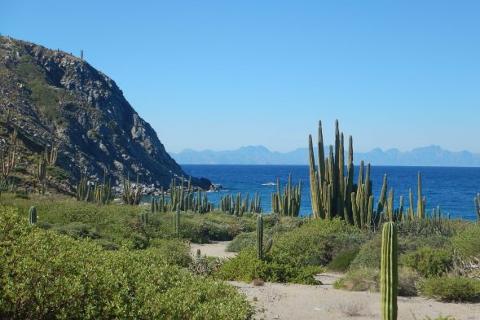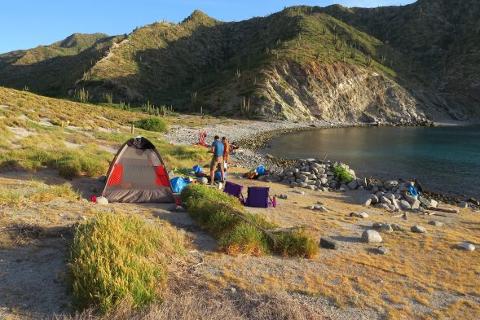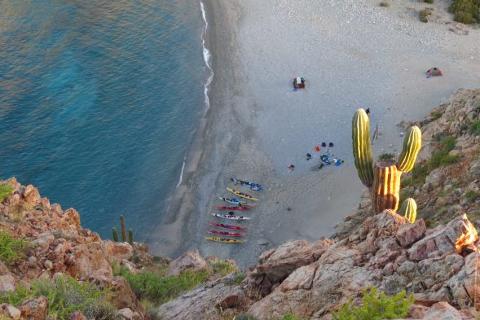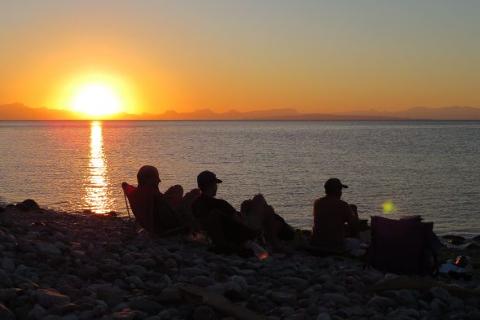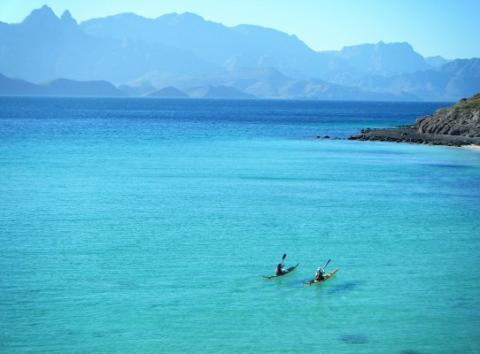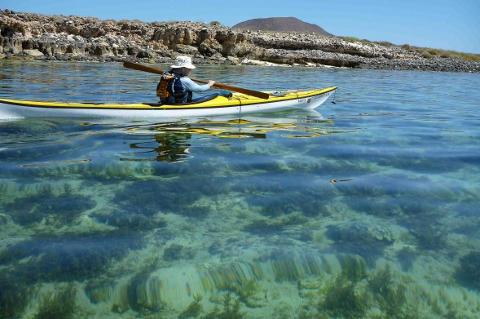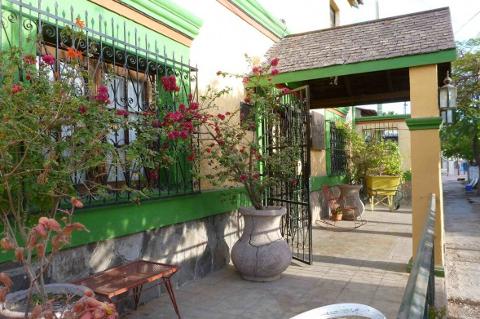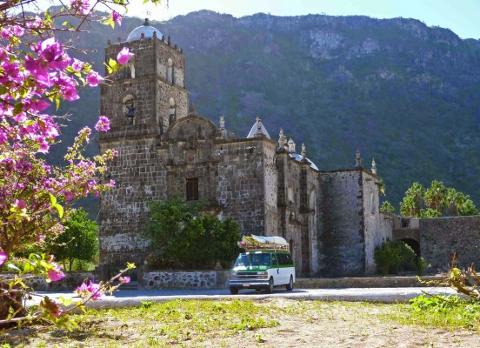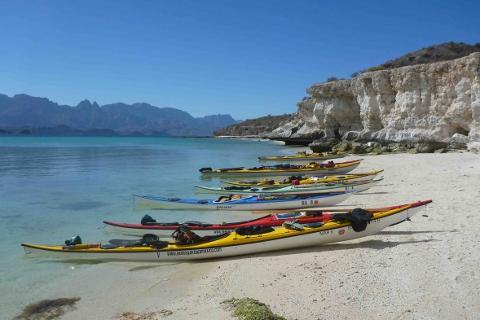 Duration: 9 Days (approx.)
Product code: P53HJD
Our 10 Day adventure begins with a flight into the township of Loreto in Baja Mexico. 2 days drive south of the border and nestled between the mountains and the sea this will be our base to to get set for our Kayak exploration. Loreto is exactly 26 degrees north in latitude, which means that for about 2 hours at the right time of the night in winter-spring, the southern cross is just visible on the southern horizon.
With a Free day to explore the area and a couple of nights in a hotel to get over our Jet Lag we will meet our local guide to look at the weather a decide our paddling itineray.
Since the formation of the Loreto National Marine Park, UNESCO has recognised these islands and all the islands in the Gulf of California (Sea of Cortez) as a world heritage site. Blue whales, humpbacks, dolphins, sea turtles, plankton, magnificent frigate birds, blue footed boobies brown pelicans, angel fish, parrot fish, sierra, dorado, rainbow wrasses, puffer fish all call this place home.

Upwellings and wind-driven currents pull up the rich nutrients of the sea, and the sun inspires rapid growth, but it doesn't stop there. The desert has it's own show. Flowering plants, cacti, marine fossils, volcanic layers of ash and breccia, faults, uplifts and intrusions will all be part of our daily life around camp and exploring for short hikes when we can.
The itinerary for our 6 Day Kayak Trip will be based on prevailing winds and weather conditions and will see us camping under the stars, eating amazing food, immersing ourselves in one of the most amazing and diverse ocean wilderness areas on the planet and sharing our stories with great laughs. Put it on your bucket list to visit this amazing place! It will be a trip of a lifetime!
Sea Kayak Baja Expedition Itinerary - 28th February till 9th March 2019 - 10 Days / 9 Nights
Feb. 28th - Day 1 - Arrive from Los Angeles by Alaska Airline Flight to Loreto and settle into Mexican life. Our Hotel awaits as does a lovely dinner in town.
March 1st - Day 2 - A Free day to help get over the flying and explore the town. We will meet our Local Guide that evening after dinner to get the update on our Kayak Trip plan and island camp locations. We can use today to pack and get ready for our expedition time away.
March 2nd - Day 3 - We will hit the sea today with packed kayaks and all we need for 6 Days exploring, kayaking, snorkelling and hiking.
March 3rd to March 6th - Day 4 - Day 7 - We will be in our element living the amazing Kayak/Camper life having the time of our lives.
March 7th - Day 8 - This is our last day paddling as we head back to Loreto to celebrate. Our Hotel awaits and clean clothes!
March 8th - Day 9 - Another Free Day in Loreto to gather our thoughts, buy some souvenirs or gifts for loved ones back home and get set for our travel day the following day.
March 9th - Day 10 - We are off to the Airport today to transfer back to Los Angeles for trips home or onward travel armed with the reward of a fantastic holiday like no other!
Please Note: For those concerned about safety, The area of Loreto we will be visiting and the National Park that surrounds where we will be exploring is a very safe area for travel. Loreto is as safe as any other place in the United States. Baja is isolated from mainland Mexico and free of incidents that adversely affect tourism elsewhere in Mexico. Of course, crimes can happen wherever there are tourists, so you just need to take the same precautions you would whenever travelling anywhere.
Price Includes:
4 Nights Hotel Accommodation in Loreto
Airport Transfers to and from Loreto
6 Days / 5 Nights camping including Tent and Mattress
All meals on our 6 Day Kayaking / Camping adventure
All Kayaking Equipment for 6 Days Paddling

Price excludes:

Return Flights (We will co-ordinate with you on the best way to get there as Flights from Los Angeles to Loreto need to be booked early. Flights are very limited and sell out quickly).
Personal Clothing (A list of what you will need for the camping component of the trip will be given to you at time of booking)
Sleeping Bag
Allow for spending money for 4 Breakfasts and 4 Dinners and Lunch on our Free days
Deposit of $2000.00 required at time of booking - If you have any questions please give us a call on 0418 649 082
Balance payable 90 days from departure